State environmental analyst in a 2008 email asked a technician collecting samples of a water system in Fenton to collect more to avert a lead public notice
A Michigan environmental official suggested a technician collecting samples for a suburban Detroit private water system bump … out a test result that found very high levels of lead by testing more homes, according to a 2008 email reviewed by the Guardian. Doing so could avert a lead public notice, the email reasoned, which would alert residents of dangerously high levels in their water.
Oh my gosh, Ive never heard [it] more black and white, said Marc Edwards, a Virginia Tech professor and lead expert who helped uncover the Flint water crisis. In the Flint emails, if you recall, it was a little bit implied this is like telling the strategy, which is: You failed, but if you go out and get a whole bunch more samples that are low, then you can game it lower.
It just shows that this culture of corruption and unethical, uncaring behavior predated Flint by at least six years.
Despite the email, residents in that jurisdiction were later notified of the high lead level.
The Chateaux Du Lac Condominiums, a homeowners association in Fenton, Michigan, operates on a private water system. Since its inception, records show, the association has struggled with high lead levels time and again. The system has exceeded federal lead action levels, set to trigger remediation efforts such as public education campaigns or expensive corrosion control, eight times over the past 20 years.
In early September 2008, a water laboratory technician collected samples from five of the nearly 45 homes in the association, the minimally required amount. The technician submitted the samples to the Michigan department of environmental quality for review. Of the five samples, one home registered a lead level of 115 parts per billion (ppb), nearly 10 times higher than the federal action level of 15ppb and thereby put the Chateauxs water system out of compliance.
On 16 September 2008, Adam Rosenthal, an MDEQ environmental quality analyst, sent an email to the technician to discuss the results. He copied Mike Prysby, the state employee who was criminally charged last week for his role in the city of Flints two-year lead contamination crisis, along with state employee Stephen Busch.
Prysby and Busch are accused by the Michigan attorney general of improperly [manipulating] the collection of water samples and removing test results from samples to be included in federal reports. (An attorney representing Prysby declined to comment, citing the ongoing criminal case.)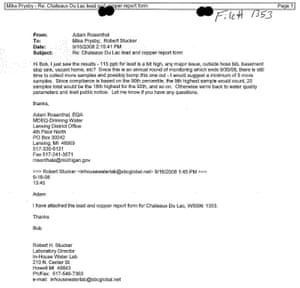 Read more: http://www.theguardian.com/us-news/2016/apr/27/michigan-employees-manipulate-water-samples-lead-testing